Greetings Earthlings:
Our dollar is in serious trouble, just in case you didn't know already.
It's become so weak and worthless that certain
Indian entities
have refused to accept our dollars as payment, an event that was unimaginable just a few short years ago:
Weak US dollar no longer accepted at tourist sites in India

Associated Press
Published on: 01/03/08

NEW DELHI — No dollars, just rupees please.

In a sign of how the once mighty U.S. dollar has fallen,

India's tourism minister said Thursday that U.S. dollars will no longer be accepted at the country's heritage tourist sites, like the famed Taj Mahal.



Tourists sit on the lawn of the Taj Mahal in Agra, India, in this 2004 file photo. In a sign of how the once-mighty U.S. dollar has fallen, India's tourism minister said Thursday that U.S. dollars will no longer be accepted at heritage tourist sites, like the famed Taj Mahal.

For years the dollar was worth about 50 rupees and tourists visiting most sites in India were charged either $5 or 250 rupees.

But with the dollar at a nine-year low against the rupee — falling 11 percent in 2007 alone and now hovering at around 39 rupees — that deal has become a losing proposition for the tourism industry.

The country's tourism minister said, though, that the decision was only in part a reaction to the currency's plunging value.

"Before the dollar lost its value, there was a demand to have (admission tickets) just in rupees," Tourism Minister Ambika Soni told the CNN-IBN news channel.

Soni said that charging only rupees would not only be more practical, but would save money because "the dollar was weaker against the rupee..."
These developments make me want to contact our Indian friends and supporters, such as the brave Men at
498a.com,
to find out how our economic woes are being viewed by the citizens of the world.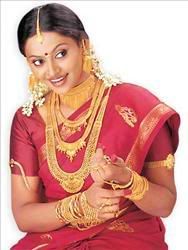 (A lovely Indian bride, wearing her wealth on her sleeve.)
More than likely, as the price of Gold skyrockets, the Indian people are thanking their lucky stars that their culture teaches a very important lession:
All that glitters (or folds in this case) is not gold, a teaching that
Indian brides
have understood for centuries.
GOLD (and
silver
) IS MONEY. Everything else is just temporary.
Along those lines, I would like to share with you this
audio clip
from Howestreet.com.
The subject is the declining dollar, declining fiat currencies as a whole, and what you can do to protect yourself. Give it a listen,
talk to your financial adviser
, and
make moves
as appropriate. Serious students will also listen to Goldseek.com's
webcast
.

DON'T WAIT!
Events are moving faster now, and financial chaos can strike like a thief in the night. Prepare yourselves.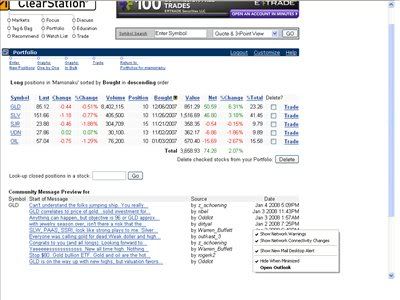 (Some of my picks. Please note that
GLD
and
SLV
are in the green. However, as my graph shows, all investments are risky and
you can lose money
.
This is in no way
an endorsement of any particular investment product, and you should check with your financial adviser before making any investment decisions.)
(An interesting vid on how to profit from a falling dollar.)
Before I close this out, I wanted to say a few words to my Indian readers:
To my Indian brothers,

I would urge you to learn from us in all things, both good and bad. Take the good aspects of our culture and elevate your game. Incorporate your traditions into all forms and all undertakings as you strive to become a world economic power. Let America serve as both your positive and your negative role model.



But under no circumstances

should you debase your cultural heritage, nor should you neglect your spiritual values as your country pursues her modernization, for any reasons whatever.

If your country follows this course, then spiritual and societal diseases such as feminism

WILL

emerge, and your nation will fall.

No matter how convincingly others may try to argue in favor of debasement of your traditions, ignore them. Hold fast to those positive ideals that have propelled your country to the position it is now, and has served your civilization well over untold ages.

When you undermine your baseline cultural ideals, such as the West has done, you will have unknowingly signed a Death Warrant for your nation. Keep your good, noble and efficient ways, and synthesize them with the knowledge you learn from the West. Create a new culture that combines the very best from both worlds, and yet remains true to the essential Indian spirit.

Spirituality and culture is the foundation of all civilized societies. The Universal Law is absolute.

Unfortunately, we in the West have ignored this truth, and now it looks like we are going to suffer the tragic consequences. Such is the Law of Karma, which cannot be denied, bribed, or ignored.

Take heed my brothers.
Togakure.